Yosuke Sasao, Ph.D.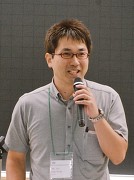 Associate Professor
International Academic Research and Resource Center for Language Education (i-ARRC)
Institute for Liberal Arts and Sciences
Kyoto University, Japan
Publication
An Official Guide to Taking the Online CNN English Examination
Thesis
Research Publications
2020.09

The guessing from context test

2020.03

Bridging the gap between EGAP and ESAP through student-selection of learning materials

2020.01

Measuring the ability to learn words

2019.04

Vocabulary teaching: A systemic perspective

2019.3

2019.1

Developing and evaluating a computerized adaptive testing version of the Word Part Levels Test

2018.4

The guessing from context test

2018.3

2018.2

2018.1

MAP grammar and vocabulary

2017.9

The updated Vocabulary Levels Test: Developing and validating two new forms of the VLT

2017.3

2017.1

The Word Part Levels Test

2016.3

2016.1

Estimating the Japanese Vocabulary Size of Japanese University Students

2015.10

英語語彙力診断のためのコンピュータ適応型テスト作成支援システムの構築・評価

2015.10

携帯情報端末を用いた英語語彙学習アプリの開発と効果検証

2015.3

2014.4

Effects of technical vocabulary knowledge on academic writing: A Nature abstract translation task

2014.3

2013.12

New directions in vocabulary testing

2013.4

Diagnostic tests of English vocabulary learning proficiency: Guessing from context and knowledge of word parts

2011.3

2010.9

Academic vocabulary reconsidered: An EAP curriculum-design perspective

2010.3

2010.3

2010.3

2009.3

京都大学学術論文コーパスを用いた学術語彙リストの作成

2008.12

2008.3

Estimating Vocabulary Size : Does Test Format Make a Difference?

2017.12

総合研究大学における英語学術語彙リスト開発の意義-EAPカリキュラムデザインの観点から-

2007.11
Research results
Vocabulary Tests
The GCT and the WPLT were created and validated as part of my PhD research at Victoria University of Wellington. These tests can be downloaded in PDF format below. If you have any questions, please contact me. Some computer-based vocabulary tests are also available at VocabularySize.com.
Guessing from Context Test (GCT)
Word Part Levels Test (WPLT)
Archive